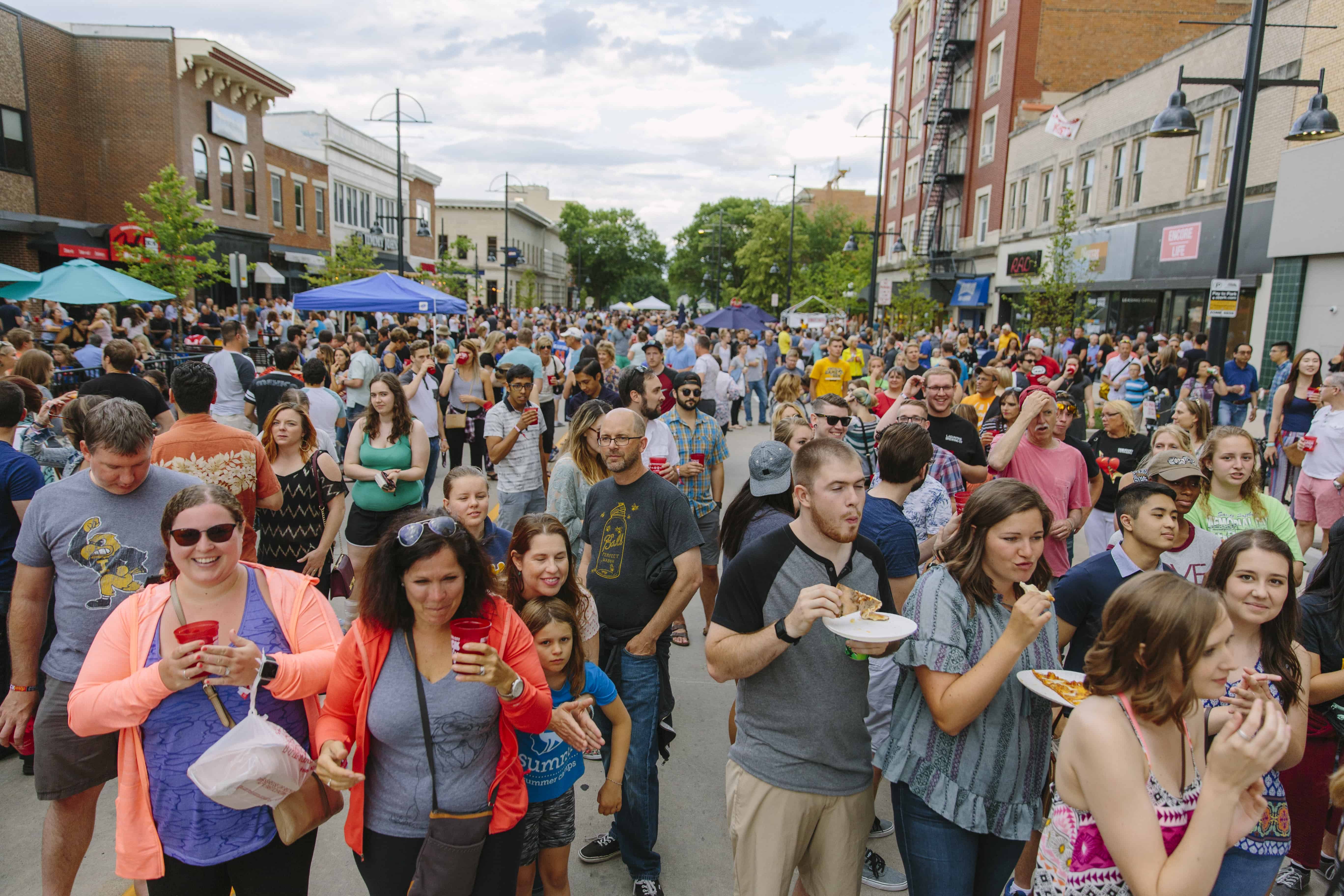 19 Jun

Join Us at the Iowa City Downtown Block Party

The second annual rain or shine Downtown Block Party will be in full swing on June 23 from 5 p.m. until 11 p.m. in downtown Iowa City. Sponsored by The Iowa City Downtown District, the party is a great place to bring the family, make new friends, and gather with neighbors, fellow students, and colleagues. Praised as the ultimate block party for the entire community, last year's party made the Wall Street Journal as well as local and regional papers. More than 30,000 people attended the 2017 Downtown Block Party.

People of all ages are welcome. Events include live music, silent disco, DJ competition, hatchet throwing demos, a sand volleyball tournament on a downtown street, a circus fashion show, mini golf, a tug of war competition, an outdoor movie (Ghostbusters), and much more. For a complete schedule of events and times, click here.

Tickets for enjoying beer and wine from restaurants and bars while strolling through the block party are $10 (pre-purchase) or $11 at the event. Attendees aged 21+ must provide a valid form of identification for obtaining a wristband. This is required for alcohol consumption and an event cup. Beer and wine only will be allowed to be taken out to the streets in the approved event cup.

The Daily Iowan reported on the 2017 block party's incredible turnout, noting that it was the largest event in the Downtown District's history.  District Director Nancy Bird said, "Everything was very well managed…and there were families out."

Local businesses sold food and drinks from booths on downtown sidewalks and on the Ped Mall. The Downtown Block Party highlighted local vendors through booths, food and drink offerings, and a fashion show. Last year's popular events will be offered this year, including beach volleyball, an outdoor movie, and a fashion show.

The party focuses on strengthening the Iowa City community through fun activities and welcomes families with its kid-friendly focus. All are welcome to join the party.
What To Do with the Kids
This party has more than a movie to entertain the youngsters. They will enjoy just being a part of the vibe along with the whole family. The Iowa City Library has a Video Game Tournament from 5 pm until 10 pm. Light painting with the Iowa Children's Museum will be offered in the library story room from 6 pm to 8 pm. Mini golf is another enjoyable family experience. So gather your clan for a game at 112 South Linn Street, which will be open during the entire party.
What To Do with the Car
All parking ramps and metered spots are free on Saturday, June 23rd until 10:30 Sunday morning. If you need a safe alternative ride home, just leave your car parked and pick it up in the morning.
Iowa City has many taxi companies as well as Uber and Lyft. These are safe options to get to and from the party. Be sure to arrange a ride home with a taxi, ride service, or designated driver.
The Iowa City Downtown District thanks their 2018 volunteers:
Friends of the Animal Foundation, Hills Bank & Trust Company, Iowa City Area Association of Realtors, University of Iowa Community Credit Union, West High Cheer, Urban and Regional Planning, Little Hawk Cheer, Alzheimer's Disease and Related Disorders Association, Bur Oak Land Trust, University of Iowa Mobile Clinic, Domestic Violence Intervention Program (DVIP), Combined Efforts, AG Clark, Coralville Food Pantry. Young Life, University of Iowa Eels Swim Team, Society for Human Resources, Public Access Television (PATV), Phi Beta Sigma Fraternity, and Mayor's Youth Empowerment Program (MYEP)
Put on your comfortable, casual party clothes. Join your Blank and McCune friends at year's best block party.
Featured Photo Credit: Iowa City Downtown District, 2017.