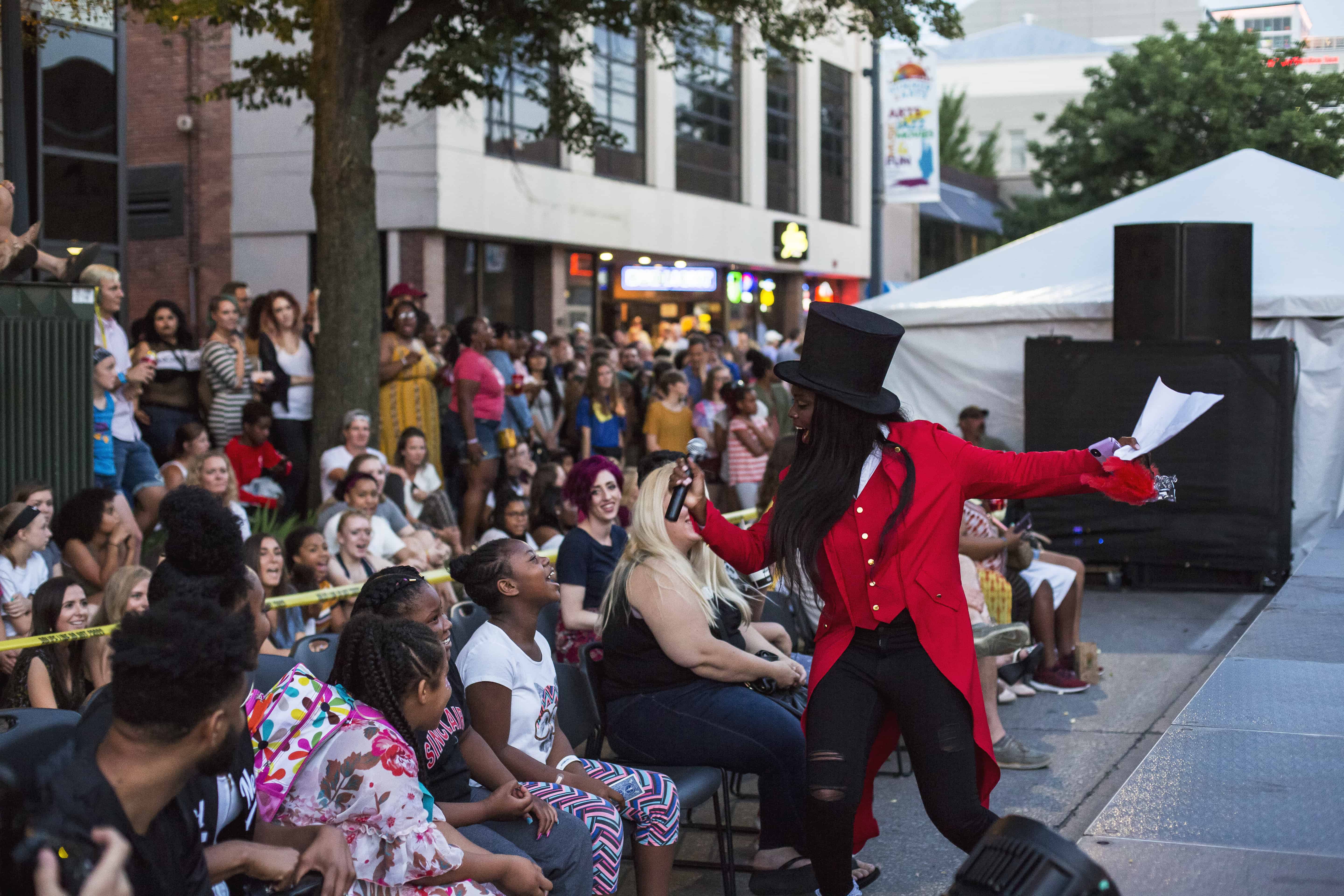 20 Jun

Spend This Saturday At The Iowa City Downtown Block Party

Kick off your Fourth of July festivities early–the 3rd annual Iowa City Downtown Block Party is this Saturday, June 22, from 2-11 pm. For newcomers to Iowa City, this is a not-to-be-missed party with something for everyone in the family. Last year, over 42,000 of your neighbors came out for all kinds of activities and entertainment, and this year the event's footprint has expanded to cover most of downtown.

The Block Party is a showcase for all the great thing Iowa City has to offer—from tennis and basketball games to interactive public art to two band stages that will keep you going all night long.

Admission to the Block Party is free, adults (over 21) can purchase festival-approved street cups, and the accompanying wristbands, for sampling all the brews and wines the festival has to offer–they're $10 ahead of time, $11 at the event. Cups are cash-only, but there are ATMs located all over downtown.

Downtown restaurants are the food vendors for the Block Party–drop by any of your favorite spots in the Party layout for a late lunch, appetizers or dinner. You can refill your go-cups in these spots, too.
Activities For The Young–And Young At Heart
The Downtown Block Party has a fantastic blend of activities for kids and parents.
2-4–Sand Volleyball Court on Clinton St between Ewers and Airliner. Iowa Volleyball Camp coaches are running free clinics, and are open to all ages.
4-11 pm–

Rollerskating Rink

 on Washington Street, sponsored by Iowa City Parks and Rec–bring your own socks!
4-11 pm–Beach Area on Clinton St, from Pancheros to Tailgate, brought to you by the Iowa Children's Museum
4-11 pm–Yard Games (corn hole, Jenga, Four Square, Ping-Pong) on Linn St
6-8 pm–Open Video Game Play at the Iowa City Public Library–take on your kids with Mario Kart and Smash Bros. All ages are welcome.
Tennis and basketball require pre-registration.
4-11–The University of Iowa is setting up tennis courts on Clinton St from Yotopia to Midwest One.
4-11–3X3 basketball games on Clinton St.
Is There Anything Cultural At The Iowa City Downtown Block Party?
Glad you asked. Drawing on the rich resources from the University and the community, the Block Party features a range of interactive things to do, and some just to see and hear.
The University of Iowa-Stanley is sponsoring Interactive Public Art between 5-8 pm on Iowa Ave by Akar. Interactive art is a relatively new concept; it's art that is in a public space, and observers are participants. Some exhibits are simply walk throughs, others give you the opportunity to take part in the exhibit.
Black Hawk Mini Park has a Generative Art Station from 5-9 pm, sponsored by Prompt Press. If you're wondering, Generative Art is created by a computer program.
The multimedia artist Jason Snell has an Art Workshop/Performance at the Iowa City Public Library from 8-9:30 pm.
There's a Drag Show on the Linn St stage from 7-8, and then the Blu-Collar Fashion Show from 8-9 pm. The Iowa City UNESCO of Literature is sponsoring a Global Poetry Slam at MERGE at 7:30
They're not exactly highbrow culture, but really, who doesn't love Dueling Pianos? The Iowa City Area Association of Realtors, and Hills Bank and Trust bring you this fun family entertainment from 5-10 pm on Washington St by M C Ginsberg. If you haven't ever seen dueling pianos, you're in for a treat.
Hit Silent Disco, on Dubuque between Raygun and St Burch, between 5-11 pm if nobody can agree on a concert–everybody gets their own headset and bops to their own beat.
Bend Your Body And Snap Your Fingers
Before you start jamming to the bands on the Englert Theatre Live Music Stage, get in a little stretching–you can choose either Free Yoga in the beer garden (a nice juxtaposition of themes) with Pedals and Poses–bring your own mat–or Outdoor Yoga and Challenges from 4-7, outside Benders Studio.
There's also a Break Dancing Competition on the Linn St stage from 6-7, but you'll need more than a little gentle yoga to keep up with that.
Iowa City is home to a vibrant senior population, and they're out in force during the Block Party. You can catch the Senior Center participants in action on the Linn St stage from 4-6 pm, where they will be salsa dancing, playing in the Tempered Brass Ensemble, or the Pomtastiks! dance group. After the entertainment, join the seniors for a Barn Dance at the Center, from 8-11 pm.
Main Stage Concerts
Live music starts at five, at the Weatherdance Fountain Stage. Englert Theatre Live Music Stage is sponsored by your favorite beverages, so be sure to stop by. Here's the entertainment schedule.
5-5:45–Elly h
6-6:45–The Mystery Lights
7:15-8:15–The Diplomats of Solid Sound
8:45-10–Tristen
If you just want to kick back with a Saturday night movie, FilmScene is showing the classic summer move Grease on Linn St by the Record Collector at 9.
The Downtown Block Party ends like any good neighborhood get together–with a friendly Tug-of-War at 10. It's on Clinton between Ewers and Airliner, and is full–but feel free to watch and cheer on all your new best friends.
A Bit Of Housekeeping
Dogs are allowed at the Block Party, but it's not recommended you bring your pooch. There are crowds, lots of loud noises, and hot pavement to burn their paws.
Parking downtown is free on Saturday, until 10:30 am Sunday morning.
Adult talk time. The Iowa City Downtown Block Party is sponsored by a number of local businesses who sell alcohol. Don't confuse the purveying of beer, wine, and other beverages with an acceptance of driving after you have sampled the wares. Please have a designated driver in your group, or call Uber or Lyft to bring you home safely. The downtown lots are free until Sunday midmorning so you can retrieve your vehicle if you leave it here overnight.
The proceeds of the Downtown Block Party go to 18 different non-profits in the Iowa City region. Many of these groups volunteer at the event and are happy to give you detailed info about their individual organizations–if you are new here, this is a fun way to learn more about non-profits and volunteer opportunities in Iowa City.