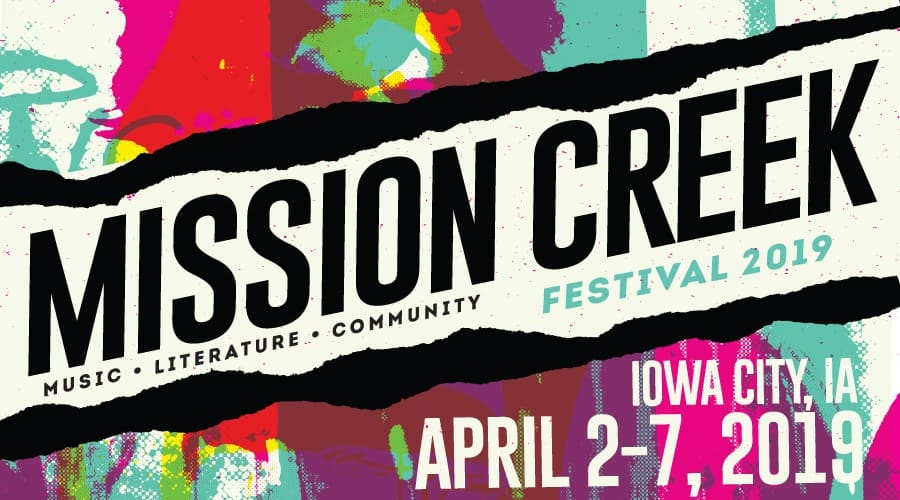 28 Mar

The Mission Creek Festival 2019

Downtown Iowa City will come alive with the arts this April, as the 14th annual Mission Creek Festival takes place on April 2 -7, 2019. Since 2006, the festival has been presented by the historic Englert Theatre,  Iowa City's 106-year old community arts center, and performance space. This sweeping celebration of music, art, and literature takes place in multiple venues throughout downtown, with offerings ranging from musical performances to artist lectures, a book fair and a comics fair. With most locations just a few blocks apart, festival goers can easily explore the diversity of planned events.

Here, just a few of the week's highlights; for the complete schedule of events, check out the Mission Creek Festival lineup.
Mission Creek Festival 2019 Kick-Off Party
The festivities launch on Tuesday, April 2 at 5 p.m. with a Kick-Off Party at the Goosetown Café, 203 N. Linn St. $50 per person includes a buffet and beverages.
Live Musical Performances
The six day festival offers a plethora of incredible musical performances. You'll definitely want to peruse the festival website for the full range of concert offerings.
This year's musical headliners include indie rock singer and songwriter Jenny Lewis. Lewis will perform on Thursda,y April 12, 7 p.m. at the Englert Theatre (221 E. Washington St.) in her only Iowa appearance. Lewis is the former co-front of the indie band Rilo Kiley, and has been featured on albums by Bright Eyes and Elvis Costello. Opening act is singing duo The Watson Twins.
Critically acclaimed Japanese singer Mitski appears at the Englert on Friday, April 5 at 9:15 p.m. Her festival appearance is one stop on her nearly sold out North American tour before returning to Japan in July. Mitski's 2018 album, "Be the Cowboy," was ranked number 2 on NPR's 50 Best Albums of 2018 list. Good Morning Midnight opens at 7 p.m., with Jay Som appearing at 8 p.m.
On Saturday, April 6 at Gabe's (330 E. Washington St.) the Underground Showcase takes place from 1 p.m. to 4 p.m. Tickets are free and open to the public for this showcase of underground acts from across the Midwest, including Catholic Werewolves, Dumpster Dick and Gully Boys.
Also performing on Saturday: not to be missed performances by electronica band Black Moth Super Rainbow 11:15 p.m. at Gabe's; rock band Hurray for the Riff Raff 9:15 at the Englert.
Comedy Showcase at The Mill
Comedian Pete Dominick, host of Sirius XM's Stand Up!, will lead a showcase of Chicago and Iowa City-based comics, including Arish Singh, Jessica Hong and Alex Kumin. Dominick was the resident opener for six years on Comedy Central's The Colbert Report and The Daily Show with Jon Stewart. Saturday, April 6 at 9 p.m. at The Mill (120 E. Burlington St.)
Free Community Programming
The festival includes a number of exciting Saturday events that are free and open to the public.
The Big Free Show and Vinyl Market takes place at 2 p.m. at the Big Grove Brewery & Taproom (1225 S. Gilbert St.).The music lineup starts at 2 p.m. with Flash in the Pan, an Iowa City string band whose original compositions combine contemporary music with traditional folk. The performances continues throughout the evening with acts that include Iowa musicians Middle Western at 7 p.m. and singer-songwriter Lilly Hyatt at 8 p.m. The Vinyl Market takes place from 2 to 7 p.m. and features record vendors from across Iowa, including Bog's Vinyl and The Record Collector.
The ICE CREAM (Iowa City Expo for Comics and Real Eclectic Media) Comics and Zine Fair, 11 a.m. to 6 p.m., at Public Space One, 120 N. Dubuque St. presents the work of more than 40 local and regional artists and cartoonists. Live screen print and  relief printing demos.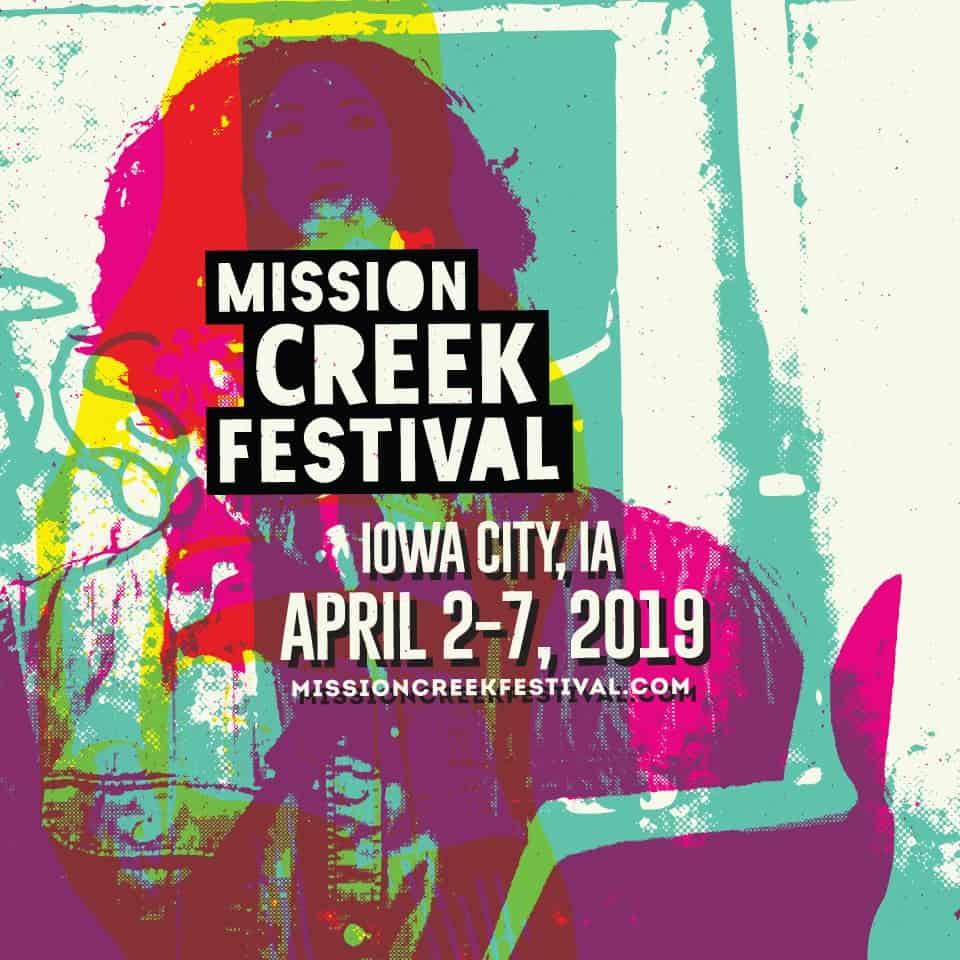 Literary Events
Best-selling novelist R.O. Kwon will read from her novel The Incendiaries, on Tuesday, April 2 at 6 p.m. at Prairie Lights Bookstore, 15 S. Dubuque St.
On Wednesday, April 3, the Nonfiction Program Writing Showcase includes readings of poetry stories and essays by alumni of the University of Iowa's Nonfiction Writing Program: Gabriel Houck, Jennifer C. Chang and Lawrence Ypil. 7 p.m. at the Prairie Lights Bookstore, 15 S. Dubuque St.
 Kevin Young, Director of the Schomburg Center for Research in Black Culture, poetry editor at The New Yorker, and author of thirteen books of poetry and prose, will read from Brown. Thursday, April 4 at 7 p.m. Prairie Lights Bookstore, 15 S. Dubuque St.
The Publishing Reimagined Panel, 3:30 p.m. on Friday April 5 at the Prairie Light Bookstore, 15 S. Dubuque St., features independent presses and such innovations as thee vinyl record-only poetry literary press Fonograf Editions and Maxwell Neely-Cohen's visual poetry synthesizer.
Friday evening features Lit Walks at 5 p.m., 6 p.m. and 7 p.m. feature readings in storefronts, cafes and bars throughout Iowa City.
Novelist Maxwell Neely-Cohen's visual poetry synthesizer, a space that responds visually to the live reading of poetry and prose, features a reading with Stephanie Burt , Sabrina Orah Mark and Brandon Alexander Williams. Saturday, April 6, 4 p.m.  7 S. Linn St.
Literary Magazine and Small Press Book Fair, Saturday, April 6, 11 a.m. to 6 p.m. at The Mill (120 E. Burlington St.) featuring literary magazines and independent publishers  across the country, including The Iowa Review, Container Press, Iowa Writers' House and more.
 Tickets on Sale Now
Tickets for the Mission Creek Festival are on sale online and in person at the Englert Theatre.
A Premium Pass ($250) gets you access to all festival events as well as a fast pass at the Englert Theatre that allows you to skip the line. Included: 8 drink tickets at the Englert and an invitation to Tuesday's kick-off party at the Goosetown Café.
A Full Week Pass ($150) gives covers access to all events and guaranteed entry at the Englert.
A Friday/Saturday Pass ($75) and Student Pass  ($40, with valid student I.D.) gives access to all festival events Friday and Saturday. Note that individual tickets are required for certain events.