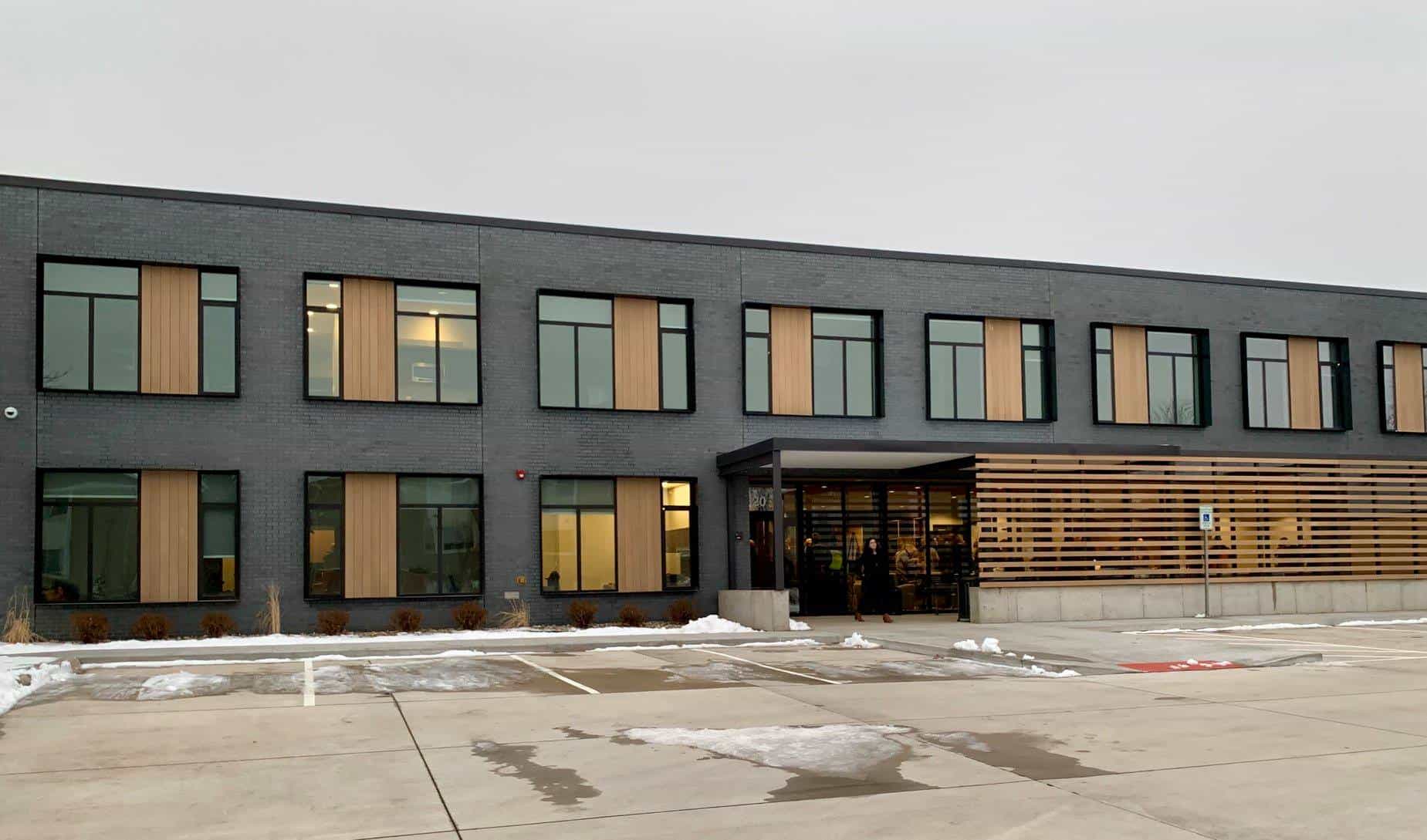 14 Mar

Cross Park Place Provides Housing-First Apartments

In 2017, Shelter House of Iowa City received $2.7 million from the Iowa Finance Authority. In addition, it received $463,000 from The Housing Trust Fund of Johnson County. These funds were intended to finance the construction of a 24-unit apartment building, Cross Park Place. On Wednesday, January 16, 2019, the recently completed project was opened to the public.
The FUSE and Housing First Focus
Cross Park Place is a Housing First concept, designed to provide housing and supportive services to chronically homeless individuals who suffer from some form of disability. It also incorporates the FUSE (frequent user system engagement) program in its mission. Both FUSE and Housing First are nationally recognized programs.
According to Shelter House's website:
In most communities, including Johnson County, "frequent users" continuously cycle through a variety of emergency interventions of various sorts (legal, medical, psychiatric, detoxification, etc.) This cycle comes at great expense to the community with no lasting improvement to the individual.

A growing number of communities have implemented the FUSE model by providing housing to a targeted "frequent user" population, with integrated health and social services. For these individuals, our community needs a targeted approach to overcome their more complex barriers.
Under the Housing First model of thought, providing "frequent users" with a stable housing solution is considered to take precedence over resolving behavioral issues or ensuring that rehabilitation programs are completed. Housing is considered to be permanent, and not subject to the behavior of the resident(s).
However, supportive services are integrated into Cross Park Place. These services include ongoing training in life skills with a qualified case manager, and regular check-ins with a medical professional, a mental health counselor, and a psychiatrist.
A Data-Driven Solution
Research conducted on four cases of chronic homelessness in Johnson County showed an average cost to the community of $559,403 per year. Between 2010 and 2014, these four "frequent users" incurred a cost of $2.1 million to the community. It is estimated that with the implementation of the FUSE-Housing First alternative, those costs will be cut by over 40%.
The Iowa City Housing Authority is collaborating with Shelter House to convert 24 out of 1,215 tenant-based vouchers to project-based vouchers. These 24 conversions will correspond to the number of units in Cross Park Place. A tenant-based voucher allows a family or resident greater freedom to choose and lease an affordable, safe, and decent privately owned housing unit. A project-based voucher restricts the selection of housing to specific units or buildings.
According to Housing Administrator Steven Rackis:
"Attaching Project Based Vouchers (PBVs) to Cross Park Place residents enables service providers to work more efficiently with residents and improve access to services. The PBV system is particularly well suited to permanent supportive housing models."
For each subsidized unit, the Iowa City Housing Authority pays the amount of the voucher directly to the landlord on behalf of the tenant. Subsequently, the tenant is only responsible to pay the difference between the actual amount of the rent and the amount paid by the voucher. In the case of Cross Park Place, tenants will only be required to pay 30% of their income.
A Widespread Issue
Chronic homelessness and high poverty levels remain a persistent challenge for the citizens of Johnson County. According to the US Census Bureau, the area's median income for a single family household is $59,965. However, approximately 15% of Johnson County residents live in poverty, and a total of 38% struggle to meet their basic needs.
Sara Barron, the executive director of the Johnson County Affordable Housing Coalition, stated that while her organization advocates for people making 80 percent or less of the area's median income, affordable housing should be available to everyone. Barron said this:
"An easier way to think about it is, for a family who can only afford to pay $400 a month for rent, what options are available for them? For an older couple that's trying to age successfully in our community who can afford $600 a month, what options are available for them? It's only through looking at those groups and their specific needs that we can come up with the kind of strategies that will have the greatest impact."
However, Barron acknowledged that there needs to be a different set of strategies and initiatives to care for the needs of both those citizens at 80% of the median income level, and those in a condition of impoverishment. The Housing Coalition continues to lobby local governments for increased specificity in the implementation of new housing initiatives.
"There's not one single solution to housing everyone and meeting everyone's needs," Barron said.
Continued Support of Cross Park Place
A total of 10 Johnson County agencies formed to develop FUSE-Housing First. While ongoing engagement in the Cross Park Place project is not mandatory, it is strongly encouraged. These agencies are expected to provide continual support and comprehensive services as needed for the duration of the project.
The 10 contributing agencies are:
Abbe Center for Community Mental Health
Housing Trust Fund of Johnson County
Iowa City Housing Authority
Iowa City Police Department
Johnson County Jail Alternatives Program
Mercy Hospital Iowa City
Prelude Behavioral Services
Shelter House
United Action for Youth
University of Iowa Hospitals and Clinics
Cross Park Place is one of the latest initiatives in an ongoing effort by Johnson County government and community organizations to provide affordable housing options for Johnson County residents. Johnson County is one of the most expensive rental markets in Iowa.
Crissy Canganelli, executive director of Shelter House, is confident that Cross Park Place is a prime example of a forward thinking solution to the problem of affordable housing for the chronically homeless. She is convinced that the solution is replicable across the state, and even the country.
"We can save lives and we can offer hope and opportunity for folks to change the entire trajectory of their lives," Canganelli said. "This is where we choose to dedicate our time, to being part of a solution."